Detail Guys Expand at Tallahassee Auto Mall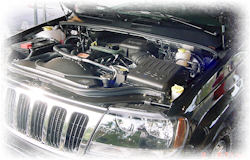 The Detail Guys had no choice but to expand to meet the demand forced on us by the Tallahassee Auto Mall, even if it meant setting up temporary awnings. As many people know in the Capital City of Florida where Jeb Bush runs the state as governor cars are big business. The Government buys many of it's automobiles there for it's fleet, and obviously they must be delivered clean. Click Here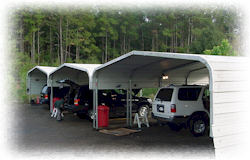 Tallahassee Auto Mall represents so many different brands, we are currently detailing for Jeep, Lincoln Mercury, Hyundai, DaimlerChrysler, etc. as well as the used cars that these brands produce on trade ins. As the serge of new car sales rocketed through Florida, so did demand for Detail guys to expand. There is not much you can do, but go with the flow, so the team improvised and adapted and did whatever it takes. Currently Tallahassee Auto Mall is expanding onto another huge parcel on the south side of the dealerships.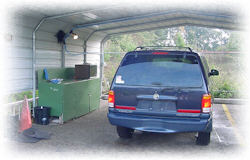 A huge new service center is in the works and Detail Guys have been asked to help design all the new Detailing Bays being built (5-6 bays), but for now we are out in the open with all the overload work flow. Thank God the weather in Florida is so great in Winter. What would Jesus drive? Well, we are not sure, only he would want it detailed by The Detail Guys of Tallahassee.
We even had to install additional DE-I system out side to give us the additional bays we needed to make it all come together.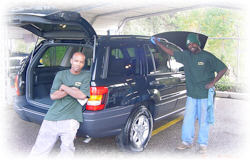 This simple down and dirty immediate need filtration system gives our team the spot free water needed for a perfect wash every time.
Pictured are Team Members who are posing for the shot during break, nicknames "K-Bizm" and "Easy D". These guys are the are part of the best crew ever assembled at The Detail Guys Tallahassee Auto Mall Division. Currently the pace is hectic and in addition to the temporary expansion bays set out side are an additional shift of great team members.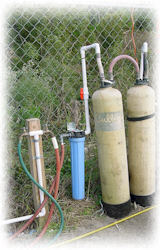 Since the work of the entire Tallahassee Team is so good, we are now fielding calls from many other dealers on the street and also Parking Companies down town in the Capital City, to provide detailing and washing services for the business executives who fill the structures with SUV, BMWs and other high priced autos. The reputation is getting around town, the competition is getting worried and the customers are loving it.
Florida is a great place to do business and it is a friendly state to all those willing to give a little back to the state that is not only pro-business, but cares about people.