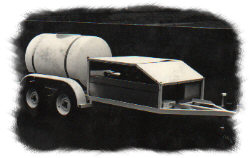 This is our first mobile aircraft detailing trailer, built in 1980. It was designed by our founder Lance Winslow III, and it was towed behind a golf cart at the Camarillo Airport in Southern California, because Lance wasn't old enough to get a drivers license.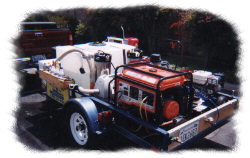 This trailer was built by Big Tex Trailers, and modified by Dan Richmond, one of our early independent contractors 9 years before we started franchising. Dan Richmond is now a Licensed Chiropractor but still owns his Detail Guys® franchise. Dan is also one of our certified franchisee trainers.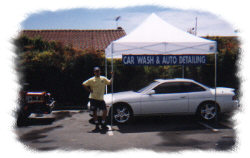 This is Dan in his exclusive territory in Huntington Beach, CA before he converted to a full fledged franchise with the new Detail Guys® trailer. Dan contributes most of his success as a chiropractor to the contacts he made detailing cars. When he is not working as a Chiropractor, he gives his Detail Guys® employees (team members) the day off and works the trailer himself.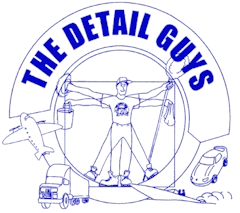 This was our original logo. We still use it in our monthly newsletter to franchisees, and on the cover of our confidential operations manual, which is on loan to each franchisee, for use in their business. We changed to the new logo in order to attract corporate clients. We are pleased with the overwhelming response we have had, however we still hold the old logo very dear, because it helped us get to where we are today.
Click here to learn more about the founder.
Click here to meet our original team members.
Click here to view our competitors.