Car Wash Guys of Texas Add Detail Center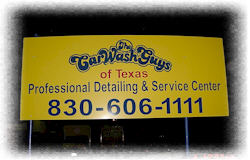 Car Wash Guys of Texas has added Professional Detailing to it's market mix and has established a Complete Service Center in Comal County, Texas. The New Service Center is the base of operations for the Car Wash Guys of Texas and is also a fully operational Detail Guys Center capable of all aspects of our Professional Detailing Services to both Retail and Wholesale (new and used car dealerships, auctions and fleet) customers.
This one of the newest Detail Guys facilities to be added to the team this year with several more to follow prior to the close of 2002, which has proved to be a very interesting year in the Automobile Industry. With all the new jobs created by such an expansion it is no wonder that our team is the local favorite. We are happy to see our Car Wash Guys franchisees cross over into the fixed site detailing sector. By adding additional services to our customers we are able to deliver exactly what they want, when they want it.
To order washing services in Texas simply go to www.ewashguy.com and click on the link which represents what you would like washed today.
Car Wash Guys have been sent to spread the message, God Bless Texas !!!