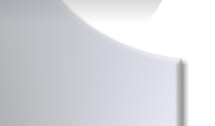 Entering The Detail Industry With the Help of Your Computer
From Detailers Digest
Spring/Summer 2000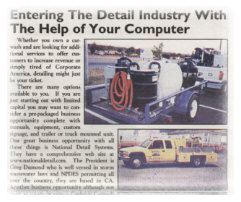 Whether you own a carwash and are looking for additional services to offer customers to increase revenue or simply tired of Corporate America, detailing might just be your ticket.
There are many options available to you. If you are just starting out with limited capital you may want to consider a pre-packaged business opportunity complete with manuals, equipment, custom signage, and trailer or truck mounted unit. One great business opportunity with all these things is National Detail Systems. They have a comprehensive web site at www.nationaldetail.com. The President is Greg Dumond who is well versed in storm wastewater laws and NPDES permitting all over the country, they are based in CA. Another business opportunity although not quite as comprehensive is Curbside Carwash formerly Union Jack Carwash, based out of Ft. Myers, Florida.
There are also several manuals you can buy on the subject. We do not recommend the one by Entrepreneur magazine, it is very generic. We recommend Sean Frey's Manual 1-503-480-0017 in Atlus, OK, or Nick Vacco's Manual out of Philadelphia, information about this manual can be found on the Delco Cleaning Systems Website, www.dcs1.com. The best manual we've found is a compilation of articles written by Bud Abraham of Detail Plus and can be bought from his website at www.detailplus.com, it is well over 500 pages. Power, Inc. has several sections in their "How to Run, A Carwash" and "How to Market A Carwash" manuals which are always on sale at the Carwash Association Meetings. To find other updated information we recommend that you join the Professional Detail Association for the newsletter, and subscribe to the following magazines such as:
Mobile Tech News
Carwash Magazine
Auto Laundry News
Detail Digest
Clean Car America
And also subscribe to online newsletters from www.mobileworks.com , www.detailguys.com, www.dcs1.com, www.carwash.com, because they are free and often very informative. If you are already in the business and are relatively confident that you can go it alone, you can buy equipment from many sources such as www.aaapws.com, www.dcs1.com, www.karcher.com, www.landa.com, www.envirotech.com, www.detailerschoice.com, www.airparkdetailing.com. Many of these equipment vendors offer great financing programs. Business Opportunity and Franchise Companies also offer great financing programs as well.
What about a Mobile detailing franchise? Yes they too are available. The Detail Guys has a portable turnkey franchise with portable detailing trailers and or truck mounted units. Their web site is www.detailguys.com. Now remember with a franchise there is on-going support but also ongoing fees and payments called royalties. The fees vary widely; The Detail Guys have fees of $280.00 per month for the first unit and $140.00 per month for each additional trailer. WOW-Wash on Wheels which is at www.washonwheels.com has fees of $400-500.00 per month per territory. Other mobile detailing franchise concepts have royalty fees from 4% to 8% of your total gross revenues. Before you lock into a lengthy contract in any franchise fixed or mobile, check it out and read up on franchising. Books on franchising can be purchased online at www.worldfranchicing.com, which has nearly every book ever written on the subject. One great book is "Franchising 101", which can also be bought at Barnes and Noble, Borders, Crown or Books a Million. It is a must read for anyone wishing to buy a franchise. A great a web site with franchising information is www.franchising.org. The right franchise is great, however the wrong one may be a disaster for you.
Let's say that money is not a problem, that you already own a freestanding building, or want to get a fixed site facility detailing shop and you want to really attack the market and start with a bang. Then what? Well you can go with the market leaders with a proven system. You may wish to buy a franchise from Detail Plus, Ziebart, or The Detail Guys. They all have websites which are easy to remember; www.ziebart.com, www.detailplus.com, www.detailguys.com. Each has an array of options which range from a 4 bay to a 12 bay Super Center, with co-brands, add-on services, etc. These three power houses, have everything you can think of and then some, and they are good at it.
Detail Plus run by Bud Abraham, who is heavily involved in the carwash industry with over 30 years experience. Bud runs seminars and writes articles and manufactures equipment. Detail Plus is based out of Portland, OR. Detail Plus will either sell you a franchise or equipment. They will help you carve out a market niche and customize your business and have an incredible and deadly track record with regards to industry knowledge and market share. Their team at Detail Plus has well over 100 years experience and spans almost three generations in the industry. Their franchisees and customers are usually extremely successful due to the efficient nature of their equipment and excellent training programs.
Ziebart can easily claim the oldest and most well established detailing and aftermarket rust proofing franchise on the Planet with nearly 500 units in 45 countries. They were originally established in 1954 and bought out Tidy Car in 1986 which was established in the 1940's. This makes for 6 decades of service in the auto industry, so take notice. This World-Wide company has a definite and well-established market niche. Thomas Wolfe, Chairman and CEO, has signed deals with Speedy Auto Glass (windshield repair and replacement) as well as the established Rhino Linings Franchise System (spray in bed liners). These co-brands have created a bonanza for current franchises of their system. Most franchisees easily gross well over half a million a year. For information call Daniel Hohman 1-800-877-1312.
The Detail Guys, which was created as a complimentary co-brand to The Car Wash Guys a mobile carwash franchise established in 1977, which grew so fast it was spun off into it's own franchise system. Detail Guys, USA, offers 3 different concepts. Detail Guys Shop (3-5 bays) or Detail Guys Super Shop (8-10 bays), which can be combined with the mobile franchise module with trailer or truck mounted units. The mobile units can also be bought as franchise separately and the franchisee can work up to a fixed shop later. The smaller shops are generally co-branded at carwashes, or Auto Dealerships where they become an in-house service and sometimes are even owned by the dealership themselves. The Super centers are stand-alone units. They are located in Reno, NV and for more information call Paul Andes, President 1-775-690-8941.
Once you are up and running with a co-brand, business opportunity, independent business or franchise fixed or mobile then what? Where do you go from there? Luckily in the detailing business your possibilities are truly unlimited. If you are mobile or have mobile service available you could branch out and detail aircraft. National Detail Systems has a comprehensive manual for this market niche as a business opportunity. Greg Dumond of National Detail Systems (www.nationaldetail.com) formerly Polish Masters has plenty of experience to back up his system. Another system Aircraft Wash Guys is an aircraft washing and detailing franchise, website www.aircraftwashguys.com.
Perhaps you are a fisherman or a nautical type. How about Boat Detailing and services? Well there is Q-Lube Marine out of Salt Lake, UT; Nauticare out of Newport Beach and The Boat Wash Guys at www.boatwashguys.com, a unique system mounted on a pontoon boat and can work right in the water. WOW-Wash on Wheels at www.washonwheels.com also has a marine system available on a trailer. National Detail System also recognizes the value in Marine Detailing Services and it has become a significant part of their overall marketing plan.
Agricultural detailing is something not often talked about however, it is not missed in Sean Frey's Detailing manual which is a mere $160.00 and can be purchased by credit card over the phone, call 1-580-480-0017. Another franchise system dealing with tractors and farm equipment detailing is at www.tractorwashguys.com.
If you have space and a large shop with Ziebart, Detail Plus or a Detail Guys Super Center or an independent shop with sufficient parking you may really want to be considering the trucking industry. Detailing Big Rigs is a big business for independents, corporate and private truck fleets as well a new dealerships and used truck brokers and auctions. If you own a carwash with limited space you may need to go mobile. Perhaps a Sparkle Wash Franchise is for you, check it out at www.sparklewash.com or a Truck Wash Guys Franchise at www.truckwashguys.com. You can also buy a machine, and try it yourself and kind of try to learn as you go. To buy equipment and go independent see: www.landa.com, www.hydrotek.com, www.dcs1.com, www.envirotech.com or www.aaapws.com. Be careful, one mistake with the wrong equipment and efficiency goes out the window.
As you can see the possibilities of things to detail is almost as unlimited as the things you can do to the items you are detailing. You will want to add services later, simply out of customer demand. Here are just some of the things you may wish to add as profit centers:
Gold Plating
Dent Repair
Windshield Repair
Pin Stripping and Graphics
Wood grain and Interior Paneling
Vinyl and Leather Repair
Paint Touch-Up
Engine Steam Cleaning
Accessories
Rust Proofing
Odor Elimination
Appearance Plus has a web site which contains information on how to get into all of these types of add-on service modules. There web site address is www.appearance-plus.com, based in Florida. You may also wish to visit www.sema.org which, contains several hundred pages of information. There are several gold plating companies to choose from and it is recommended that you shop around and not just for price. Good web sites are www.goldplating.com or www.americangoldplating.com. For interior paneling we recommend Nuteriors call for prices and a catalog 1-800-780-3274. For Odor control you may want to check out Diamond Lustre at www.diamondlustre.com, they carry several types of Ozone machines. For Vinyl Repair try Dr. Vinyl at www.drvinyl.com they have a great system. You may also want to take a look at Refinish & Redye Co. out of Pennsylvania their phone number is 1-888-621-1128. You can also buy products from Fitzgerald's, their website is www.fitzgeraldsrestoration.com. For Dent Repair there are quite a few and you may wish to check out the following: The Paint Bull out of Michigan at www.paintbull.com, The dent Doctor out of Arkansas 1-800-946-3368, Dent Pro out of California at www.dentpro.com. For Paint Touch up there are also several such as Aero Colours, and Colors on Parade at www.colors.net. For graphics try a cool website for Auto Accessories Warehouse at www.aawi.com. I realize that there are so many choices that it is hard to choose. Biz Op, Franchise, Independent, co-brand, mix and match, decide not to decide which is also a decision? If you do not look into these additional opportunities are you missing the boat? Are you looking to make more money? Most of us are.
The big question is what do you add first, what do you skip and what does your customer want to buy? Many times a Detailing Shop of an independent will add those items he/she believes their customers want. Since it is not a franchise, it is a best guess issue, there is no proven business plan to go by, but the savvy operator who is in touch with their customers seldom has to face a shot in the dark. A franchise system on the other hand has grown through market adaptation and innovation. There is really little guesswork since other franchisees and corporate units have already been there and done that. Companies such as Detail Plus, Ziebart and The Detail Guys with a combined number of nearly 1000 units take the school of hard knocks out of the equation in trade for a periodic royalty payment for their experience. That experience is available on an ongoing basis as well as all the benefits of all new innovations from their teams (franchisees). With Business Opportunities it is a similar situation, if it doesn't work they will not be able to keep selling units. For instance National Detail Systems a mobile detailing Biz Op has well over 500 units sold. Obviously it works otherwise the word of mouth would have killed them years ago. Greg Dumond of National Detail Systems has over 28 years experience in the industry. Biz Ops must give the buyer what sells and the more realistic and simple their business model is the easier it sells. A Biz Op which works, is a no-brainer, why wouldn't you add it to your current business? Franchising is a more long term approach and you must put as much faith in the franchise systems team as the market potential, business model, equipment and training. Lots of choices and one answer doesn't fit every situation. Study, read, and ask the right questions in advance. With so many great companies out there in our industry it is hard to choose the best one for you. On the other hand, with that many choices there is surely the perfect fit.