Detail Guys Meet Beverly Hills Competition
We met up with Hans (J. Koch) on the West Side the other day (that is the high end real estate neighborhood in Southern CA, Los Angeles area).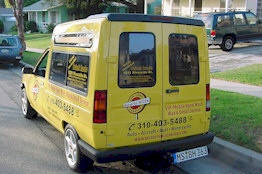 Hans has been detailing cars for 20 years. He is so popular amongst the famous movie stars that he has his pick of customers. The day we met up with him, he had just finished Holly Hunter's car and had done several movie star's cars that week. Hans has been a competitor for so many years, it is almost as if we are now friends. It is interesting how you grow to respect people you compete with in such a fierce way.
In 1990-1995 we competed with Hans and actually took some customers away from him in Malibu, CA. At the time we were not a franchise company yet. Back then we had only Independent Contractors, which paid us a stipend to use our Car Wash Guys and Detail Guys name. During those years there were about 30 or so of us. http://www.carwashguys.com/history/museum1.shtml Our size was not the point, it was our strong will to service the customers and community better than anyone else. Our Team member in Malibu was Tony Proctor who had just gotten out of the Navy after seeing the sea and the World and he started dating Lindsey Wagner's sister.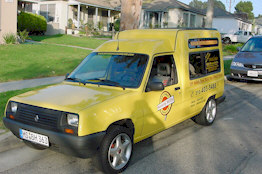 So of course we ended up doing all Lindsey's Ford vehicles that we presume they gave to her for free. She would drive them to Ojai, CA and got them extremely dirty at her ranch. And of course no one wanted to piss off the Bionic Woman. We can tell you hundreds of such stories, but in Malibu, CA everyone is someone, so no one really talks about it too much, just good folks and locals. Rich and Famous and down to Earth, best customers and nicest people you could ever know. Good parties and great food too.
As our team became more popular amongst the Malibu elite, we started to do fundraisers for the local kids; http://www.carwashguys.com/history/museum64.shtml . Tony was always there to help whether Malibu was having an El Nino year and falling into the ocean with mudslides or a giant out of control wildfire. Tony and Malibu were very resilient in those tough years. Tony washed cars for the City of Malibu and for nearly anyone who was anyone. Prior to that Shen's Detailing and Hans pictured here were the two competitors to beat. We finally knocked Shen out of the way and Hans moved his business into Bellaire, Brentwood and Beverly Hills at the time. Later we competed with Justin's Detailing who finally went out of business due to environmental laws and the "Heal the Bay Environmental Group." We of course kept going since we were on the leading edge of the California Water Code 13.260 and the new changes of enforcement of the Federal Clean Water Act of 1972. Which the City of Malibu not only enforced, but sued 23 cities up stream for their non-enforcement.
Today Hans has this beautiful yellow truck, very bright in color and the only one of it's kind in the US. As a matter of fact he has been having problems with the California Department of vehicles and the DOT over the vehicle, but isn't it cool? Of course it is and guess why it is yellow? We had painted Tony's truck yellow which he had purchased from our Founder and it was one of the very first yellow trucks we ever had.
Since that time Hans has become wealthy and owns a detail shop in Burbank too, near Burbank Studios. Here is his web site; www.BHCarCare.com. Hans is considering selling the shop to a Detail Guy or perhaps closing it all together due to the labor supply, we understand having had problems ourselves in that area in 1996 with quality of labor in the San Fernando Valley. In Burbank, CA our franchisee at the time was washing for many movie executives, Disney, Disney's Shamrock real Estate holding Division and the areas largest limousine company, 3 rd largest in the US. San Fernando Valley is home to over 2 million people nicely packed in together, but talk about volume of cars, unbelievable and so is traffic. The work is so overwhelming and the labor so horrible the work caused our franchisee to have back problems, you think cleaning and detailing cars is easy? It isn't and Hans will surely vouch for that. You have to love CA weather, but the work is non-stop.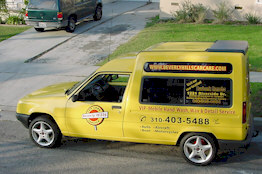 It was good to meet up with Hans in Beverly Hills for old time sake. Even better to see that Hans is still at it and doing so great right through this recession. Way to go Hans, thank you for uplifting the Industry, seeing the value in yellow, doing it right and having such a positive image for your Movie Star Customers and the elite of the West Side.