Tomahawk USA Approved as Official Vendor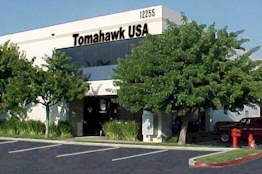 WashGuys approve Tomahawk unit for use on our residential mobile washing services prototypes. We met with the engineers and executives of Tomahawk recently on our visit to Poway a suburb of San Diego. We had already approved their skid units for our franchisees as well as recommending it to our team members and fellow industry competitors who service customers at office buildings and places of employment.
These units are low cost, come ready to work and can fit into the smallest of our units for work in tight areas. These units have many great features. After studying all the various types of low cost compact units with adequate fire power we discovered Tomahawk leading the pack.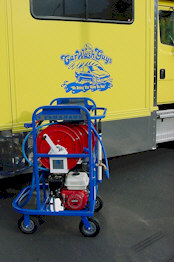 Also of significant value is their revolutionary re-design of the De-Ionized water cart for cleaning at car dealerships. Many years ago Apollo, Inc. teamed up with Culligan Franchise system to build these carts and they sold 10's of thousands of these across the Western States. Their original unit was good, but this new re-design of the concept is by far and away the best De-Ionized cart in the world. Equipped with many necessary improvements such as exhaust mounted to point downward to stop the loud rattle and echo associated with working near rows and rows of cars. We know from our team that, such problems cause head aches after hours of washing cars. Also of significant improvement is the caster system which will not allow the machine and unit to tip over, the original Apollo units were quite cumbersome, hard to push and we can recall many times in the late 80's tipping over carts, contaminating water supplies and slowing our work flow.
Paul assured us of the product support, gave us reference names (all of whom were overly satisfied) and guaranteed special pricing for our team. Tomahawk is named after the Piper Tomahawk training aircraft. Our founder has some Tomahawk time in his log book and laughed when he noticed the employees and engineers of Tomahawk who wore T-Shirts with a Tomahawk Cruise Missile on them, with a giant American Flag painted on them.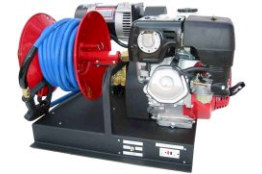 Tomahawk USA is the name of the company and you will not find a better set of product engineers or patriotic employee team members anywhere. We support Tomahawk, because they support our industry and our country.
For more information check out their web site: www.tomahawkusa.com
Convenient electric start.
Unique innovative design mates pressure washer and generator to a single engine.
Professional look virtually guarantees new and repeat business plus referrals.
Rewind hose reel makes set-up and tear down a snap.
50 ft of 3000-PSI steel braided high-pressure hose. Convenient chemical injection controlled at the nozzle allows soaping while 50' from system.
General triplex pump
Honda 8 HP OHV engine with low oil protection
Dual bearing generator.